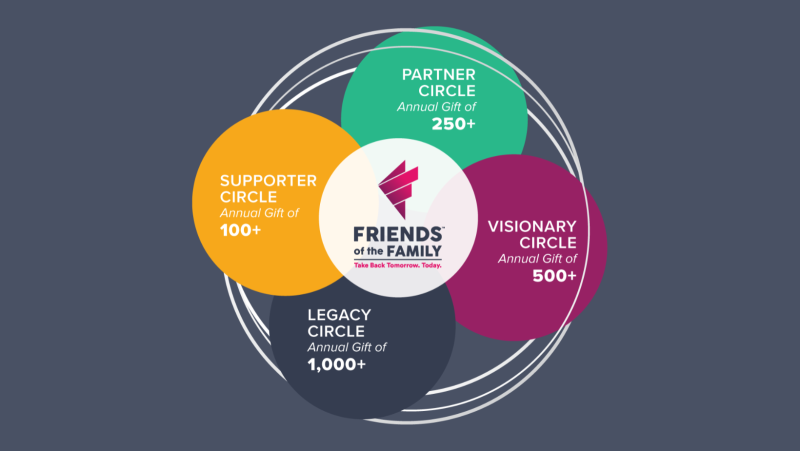 your DOLLARS AT WORK
As a donor, you made the following possible:
21 days averaged from homeless to housed
85% remained in permanent housing
94 human trafficking survivors served
442 adults & children were housed
3,550 night of safe shelter provided
7,250 crisis line calls answered
$972,549 spent on client assistance (double over the previous year)
Your support
If you are able, we would love for you to join our Circle of Friends by donating $100, $250, $500, $1,000 or more, to help us move towards our vision of ensuring EVERYONE HAS A HOME. You can do this with a one-time donation or by setting up monthly payments.
Thank you for your continued support of our work to ensure that everyone has a home!
For questions, please contact Erin or 319-576-2240

2022 Quarter 1
| | | | |
| --- | --- | --- | --- |
| Supporter Circle | Partner Circle | Visionary Circle | Legacy Circle |
| $100+ | $250+ | $500+ | $1,000+ |
| Cardinal Construction | Capital Group American Funds (Lois Trachte) | Joe Sands | Michael & Marie Prachar |
| Deb and David Nagle | David Wylam | Love Some Buddy Inc | St Mary Church |
| Iowa Heartland Habitat for Humanity | Dupaco | Midwest Mold Builders | United Methodist Church of Parkersburg |
| Jerry Roling Motors | GLASS TECH Auto Glass | Paladin Group | Benevity |
| Jessica Rucker | Mt Hope United Methodist Church | Schwab Charitable (Garland and Heather Krabbenhoft) | Network for Good |
| Kaiser-Corson Funeral Home | Sara Junaid - Oakridge Real Estate | Tyson | Rebekah Heit |
| Liane Nichols | Waverly Shell-Rock Community School District | CUNA Mutual | Steven & Michelle Phillips |
| Linda George | United Way of Dane County | Green State Credit Union | Warren & Barbara Zemke |
| Mary Bielefeld | | Zsavoos Grill | |
| Mary Porath | | First Bank - Waverly | |
| Richard & Jackie Peterson | | VGM Assoc LTD | |
| Sandy Marsau | | | |
| Sara Petersen | | | |
| Tenenbaum's Jewelry | | | |
| Abe Woods | | | |
| Ashley Broshar | | | |
| Cynthia & Lyman Campbell | | | |
| Target Corporation CyberGrants, LLC | | | |
| Alpha Zeta ADK | | | |
| First Presbyterian Church | | | |
| Redeemer Lutheran Church | | | |
| St. Peter Lutheran Church | | | |
2022 Quarter 2
| | | | | |
| --- | --- | --- | --- | --- |
| Friend Circle | Supporter Circle | Partner Circle | Visionary Circle | Legacy Circle |
| $1+ | $100+ | $250+ | $500+ | $1,000+ |
| Adam and Meagan Miller | Angie Edgington | Angie Edgington | Bill Colwell Ford | Duroe Family Foundation/Farmer's State Bank |
| Aldijana Omanovic | Angie Edgington | Angie Edgington | Cedar Heights Community Presbyterian Church | Exchange Club of Waverly Iowa |
| Alicia Faust | Antoinette Woods | Antoinette Woods | Constgance Dehaan | Farmers Win Coop (Mike & Vicky Fonley) |
| Alyssa Boranian | Ashley Schneider | Ashley Schneider | Court of Joan of Arc No. 388 | Cedar Valley Auxiliary |
| Alyssa Roney | Ben Brustkern | Ben Brustkern | Cynthia Campbell | Chad Moine |
| Alyssa Trapp | Ben Sullivan | Ben Sullivan | Drew Kahler | Edna Brunkhorst |
| Athena Hansen | Candi Lanning | Candi Lanning | Janean Skovgard | Green State Foundation |
| Bailee Burks | Cody Rust | Cody Rust | Jim Denholm | Lincoln Savings Bank |
| Benjamin Sullivan | Dale & Michelle Janssen | Dale & Michelle Janssen | Next Generation Wireless | St Timothy's United Methodist Church |
| Bonnie Gesell | Debra Covey | Debra Covey | Pam Riggs | United Way of Dane County |
| Brad McKee | Debra Covey | Debra Covey | St. John's Lutheran Church | |
| Caitlyn Kupka | Doran Butschi | Doran Butschi | Tony Pollastrini | |
| Carl or Gloria Campbell | First Covenant Church | First Covenant Church | United Way of Dane County | |
| Cedar Valley United Way | Five Points Chiropractic | Five Points Chiropractic | VGM Assoc LTD | |
| Courtney Wilkins | Gary & Nancy Smith | Gary & Nancy Smith | Waverly Shell-Rock High School | |
| Diana Blake | Heritage United Methodist Church | Heritage United Methodist Church | | |
| Don & Sherill Barr | Janet & Kevin Sanders | Janet & Kevin Sanders | | |
| Dorothy Roiseland | Jason Schmitz | Jason Schmitz | | |
| Drew Kahler | Jazzlyn Douglas | Jazzlyn Douglas | | |
| Duane & Charlotte Westpfhal | Karen Skovgard | Karen Skovgard | | |
| Elizabeth Imhoff | Kathy Olson | Kathy Olson | | |
| Emma Wendel | Kaye & Rita Ohrt | Kaye & Rita Ohrt | | |
| Ericka Roberts | Keith & Ginny Tomlinson | Keith & Ginny Tomlinson | | |
| Genie Berst | Kelly Delp | Kelly Delp | | |
| Hannah Ciesielski | Kurt & Melanie Wedeking | Kurt & Melanie Wedeking | | |
| Helen & Kenneth Debner | Kyle Langenberg | Kyle Langenberg | | |
| Jacob & Michelle Byers | Kyndra Lobdell | Kyndra Lobdell | | |
| Jennifer Ortner | Lois Elly Folkers | Lois Elly Folkers | | |
| Jessica Gulick | Lori Sinwell | Lori Sinwell | | |
| Jill Mejia | Margaret Phelps | Margaret Phelps | | |
| Jim Young | Mark Mueller | Mark Mueller | | |
| June Hicks | Marvin & Catherine Orth | Marvin & Catherine Orth | | |
| Karen Habenicht Arens | Melissia Smith | Melissia Smith | | |
| Kari Hamrick | Michael & Deborah Berstler | Michael & Deborah Berstler | | |
| KarLee Kearns | Michael & Elizabeth Hogan | Michael & Elizabeth Hogan | | |
| Katario Roby | Michael & Kathe Sherer | Michael & Kathe Sherer | | |
| Kim Brustkern | Mike Stout | Mike Stout | | |
| Kim Folkers | Myron McGowan | Myron McGowan | | |
| Kirsten Moore | Nathan Thurm | Nathan Thurm | | |
| Lauren Schryver | Plainfield United Methodist Church | Plainfield United Methodist Church | | |
| Lisa McKinstry | Stan & Carolyn Duncalf | Stan & Carolyn Duncalf | | |
| Lisa Wagner | Tad Hartz | Tad Hartz | | |
| Lucas Smith | Tamara Scharfenberg | Tamara Scharfenberg | | |
| Maria Jackson | Tim & Nancy Bathke | Tim & Nancy Bathke | | |
| Maria Renken | | | | |
| Marilyn Pinkley | | | | |
| Matthew Carroll | | | | |
| MeeAh Printy | | | | |
| Michael Fleming | | | | |
| Monique Wise | | | | |
| Morgan Stone | | | | |
| Nathan Vannoni | | | | |
| Nettie Treloar | | | | |
| Nicole Jacobs | | | | |
| Rahmana Causevic | | | | |
| Richard & Cheryl Jensen | | | | |
| Ronald Leibold | | | | |
| Samantha Japp | | | | |
| Sara Kelsey | | | | |
| Selvedina Nuhanovic | | | | |
| Shelley Wach | | | | |
| Stephanie Koenen | | | | |
| Steve and Janet Brustkern | | | | |
| Tom Pottebaum | | | | |
| Trace Carman | | | | |
| Tuesday Study Club | | | | |
| Will Bird | | | | |