Our Mission, Vision & History
Friends of the Family works tirelessly to help survivors and victims of domestic violence and sexual assault. We take pride in our advocacy efforts, which began in 1992. Over the years, we have expanded our organization to aid people in 25 Iowa counties thanks to generous donations and strong leadership from our staff and Board of Directors.
INCLUSION STATEMENT
Friends of the Family is dedicated to providing meaningful and quality services to persons regardless of race, color, ethnicity, national origin, age, sex, gender identity and expression, sexual orientation, ability, marital status, socio-economic status, and religion. We celebrate diversity and strive to meet each individual's culturally specific needs. Our agency embraces these same beliefs in our employment practices, and encourage all interested persons to respond to job postings regardless of any identities held in the classes stated above.
Mission Statement
To provide safe shelter, confidential services, and housing assistance to individuals in crisis due to homelessness, domestic violence, sexual assault, and human trafficking.
Vision Statement
Everyone has a home.
Historical Timeline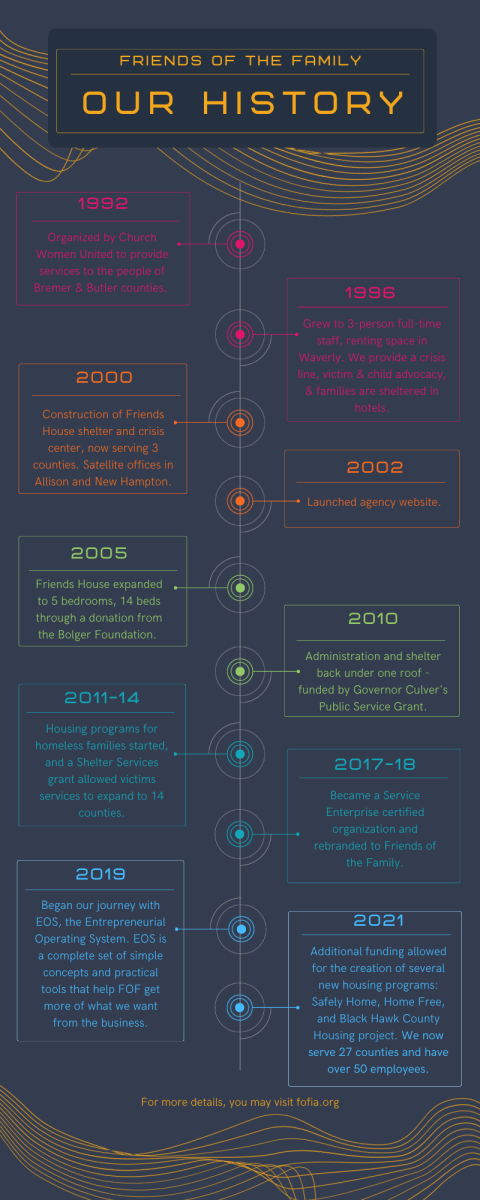 Board of Directors
FOF is governed by a Board of Directors.
The Current Members Are:

Would you like to be considered for a position on the board?
Please provide the following information.