Child Sexual Abuse Prevention Training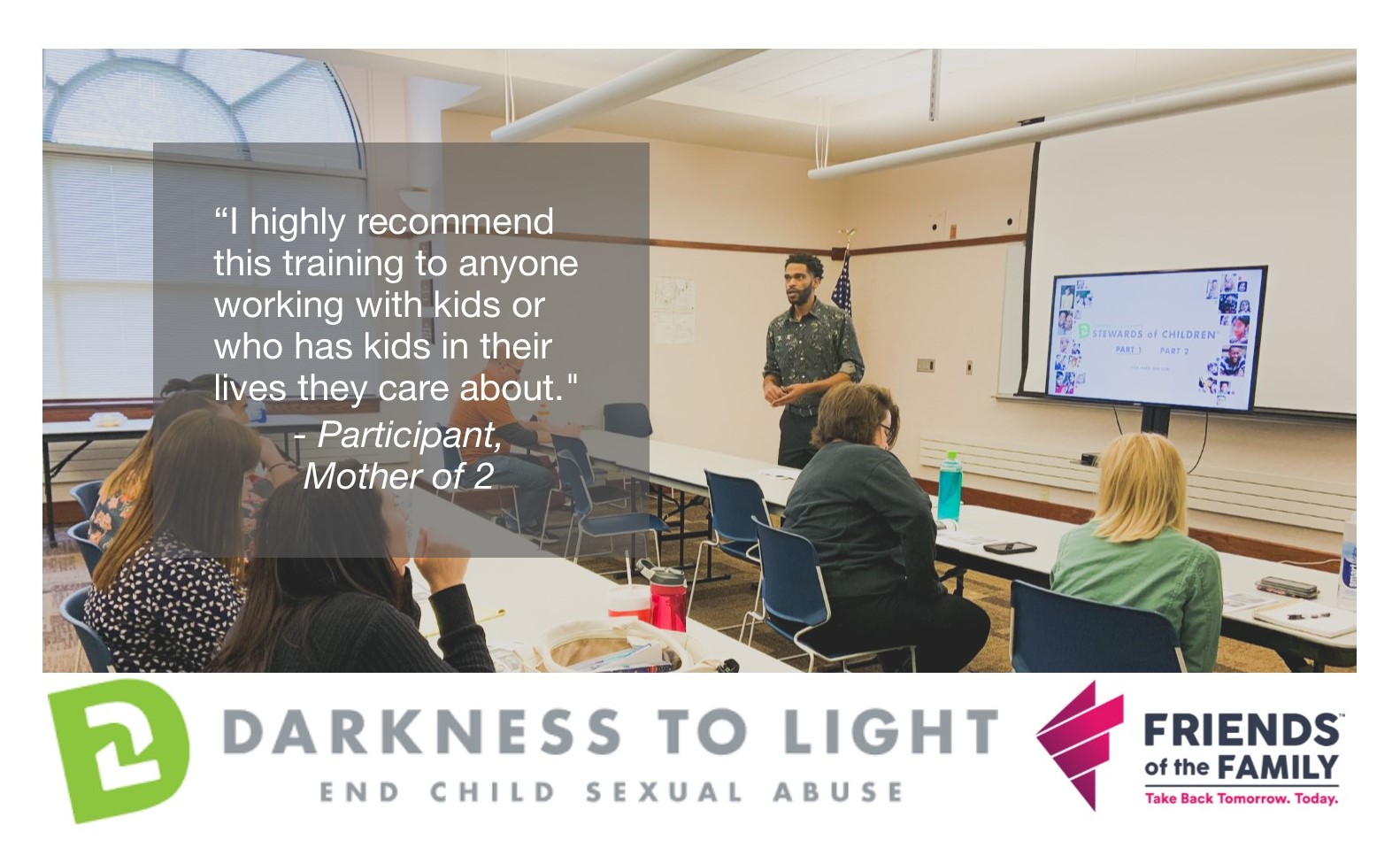 Learn How to Spot the Signs and Help Survivors
Friends of the Family provides education to a variety of groups to raise awareness for these issues and spot warning signs. We also help you understand the steps you should take if you believe someone you know is experiencing these issues and who you need to contact to get them the help they need. In order to successfully help survivors of domestic violence, sexual assault and human trafficking, it's critical that individuals be able to spot important signs so they can get help for the victims.
Our Prevention Education Classes are Available to:
Schools and universities
Churches and youth groups
Businesses
Community organizations and service groups
Intimate Partner Violence Prevention Programs
Coaching Boys Into Men
Coaching Boys Into Men (CBIM) is tailored to high school and college athletes and has a violence prevention curriculum focused on influencing athletes in schools to create a safer community. The program provides instruction and techniques so athletes respect women and girls in their lives through 15 minute discussions each week. Coaches need to attend a one-hour training session to prepare to deliver the curriculum to their team. The program can also be adapted to female athletes.
Safe Dates
Geared toward middle school and high school students, Safe Dates is an evidence-based dating abuse prevention program that deals with attitudes and behaviors associated with violence. The goals of the presentations are to raise awareness of what constitutes healthy and abusive relationships, the causes and consequences of abuse, and provide resources for victims. The program has a wide variety of activities to engage students and allow them to both process content and practice new skills.
Victim Counselor Training
To be certified to work with victims of domestic violence and sexual assault, we offer an intensive 30-hour training on intimate partner violence. After the training, participants are able to become a Domestic Violence/Sexual Assault Advocate and work with victims. This training is intended for individuals who work with or volunteer at our agency and is offered twice a year.
Bullying Prevention Programs
Bully Proof
Bullying prevention begins at a young age. The Bully Proof programs provides pre-kindergarten and elementary school students with the skills to build self-confidence and respect each other while accepting diversity. Older children learn the types of bullies, bullying behavior and how to be an active bystander as a way to teach them to stand up for themselves and their classmates.
Mentors in Violence Prevention (MVP) Program
MVP is a violence and bullying prevention program that encourages middle and high school students to become leaders in their school and community. The training encourages students to be active bystanders and empowers students to make their school a better place. During sessions, students role-play responses to bullying, harassment and violence.
Owning Up
Developed by Rosemary Wiseman, author of Queen Bees and Wannabes, Owning Up holds separate sessions for males and females in middle school and high school to address the unique concerns of each gender. The program is designed to help students identify and discuss behaviors and attitudes associated with school climate, understand how emotions can influence behavior, and develop strategies to communicate positively during a conflict. The program also defines cyber bullying and sexual harassment.
Active Bystander Training
Friends of the Family's Active Bystander Training discusses the common reasons people do not engage when they witness violence or bullying. Through activities and discussion, participants learn strategies to proactively intervene on behalf of victims. This program can be modified to address the specific needs of organizations.
Child Sexual Abuse Prevention Programs
Think First and Stay Safe
Think First & Stay Safe (TF&SS) is a personal safety program designed for students in grades Pre-K through 6. Each presentation is developmentally appropriate with content and activities. While it is important to arm youngsters with personal safety strategies, it is also essential to reassure them that most people are good and kind. TF&SS teaches children that it is a crime for anyone to cross over the line from affection to abuse. They learn a safety plan to respond to inappropriate behavior and tell at trusted adult.
Stewards of Children
Stewards of Children is a prevention training program that teaches adults how to prevent, recognize, and react responsibly to child sexual abuse. The program is designed for organizations that serve youth and for individuals concerned about the safety of children. It is the only nationally distributed, evidence-based program proven to increase knowledge, improve attitudes, and change child protective behaviors. For every adult trained in Stewards of Children, 10 kids are better protected from abuse.
Community Awareness Programs
Strengthening Families Program
Strengthening Families Program is a seven-week evidence-based program for parents and their children. Children in families who have attended SFP 10-14 are less likely to experiment with drugs and are more resistant to peer pressure. Each week, parents learn positive skills to interact with their children. Youth gain empathy for their parents and learn coping skills.
Connections Matter
A curriculum written by scientist and expert on brain development, Dr. Linda Chamberlain, Connections Matter is a 50-minute introduction to the impact of trauma on children and adults. The program is meant to empower participants to make connections with people in their lives to ensure the well-being of every individual.